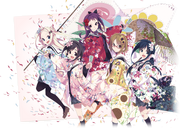 The anime adaptation of Hanayamata (ハナヤマタ, Hanayamata?) is produced by Madhouse and avex under Hanayamata Production Committee, slated to air on TV Tokyo, TV Aichi, TV Osaka, and AT-X starting July 2014. On September 2015, North American distributor Sentai Filmworks announced that the anime was given a home release as well as an English Dub in January 2016.
Director: Atsuko Ishiduka
Series Composition: Reiko Yoshida
Character Design: Atsuko Watanabe
Music: MONACA
Music Production: DIVE II entertainment
Animation Production: Madhouse
Production: Hanayamata Production Committee
Australasian Licensor: Madman Entertainment
North American Licensor: Sentai Filmworks
Dub Director: Christopher Ayres
Japanese Voice: Reina Ueda
English Voice: Caitlynn French
Japanese Voice: Minami Tanaka
English Voice: Luci Christian
Japanese Voice: Kaya Okuno
English Voice: Monica Rial
Japanese Voice: Yuka Ōtsubo
English Voice: Cynthia Martinez
Japanese Voice: Manami Numakura
English Voice: Carli Mosier
Japanese Voice: Megumi Toyoguchi
English Voice: Molly Searcy
Japanese Voice: Tsuyoshi Koyama
English Voice: John Gremillion
Japanese Voice: Yuki Wakai
English Voice: Brittney Karbowski
Japanese Voice: Maika Takai
English Voice: Juliet Simmons
Japanese Voice: Ayano Yamamoto
English Voice: Margaret McDonald
Japanese Voice: Toru Ohkawa
English Voice: David Wald
External Links
Edit
Ad blocker interference detected!
Wikia is a free-to-use site that makes money from advertising. We have a modified experience for viewers using ad blockers

Wikia is not accessible if you've made further modifications. Remove the custom ad blocker rule(s) and the page will load as expected.