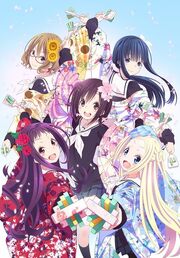 Hello everyone, especially Hanayamata Fans. In case people don't know, Sentai Filmworks, the distributor, has release their list of voice actors for the English version of Hanayamata. Directed by Christopher Ayres, the list currently is:
Caitlynn French as Naru Sekiya
Luci Christian as Hana N. Fountainstand
Monica Rial as Yaya Sasame
Cynthia Martinez as Tami Nishimikado
Carli Mosier as Machi Tokiwa
Molly Searcy as Sally-sensei
John Gremillion as Masaru Ōfuna
Brittney Karbowski as Sachiko Yamanoshita
Juliet Simmons as Yūka Komachi
Margaret McDonald as Arisa Kajiwara
David Wald as Naru's Father
Leraldo Anzaldua as Hana's Father
Tiffany Grant as Hana's Mother
David Matranga as Tami's Father
John Swasey as Yaya's Father
John Swasey as Police Officer
Additional voices include: Leraldo Anzaldua, Christopher Ayres, Amanda L. Baird, Joanne Bonasso, and Cayla Coats.
Sentai Filmworks previously announced that The DVD and Blu-ray of the series will ship on January 19 on September 22, 2015.
Also, The 12-episode series premiered in July 2014 and Crunchyroll streamed the series as it aired in Japan.
Sentai Filmworks describe the series as follows:
Naru is an extremely average high school girl. Though she has a love for fairy tale heroines, she's never done anything extraordinary with her life. One day, she sees the transfer student, Hana dancing in the moonlight. Naru becomes inspired by her new acquaintance and decides to learn Yosakoi dancing.
Besides previously, Atsuko Ishizuka (The Pet Girl of Sakurasou, No Game, No Life) directed the anime at the Studio MADHOUSE. Reiko Yoshida (K-ON!, Girls und Panzer, Tamako Market) wrote and supervised the scripts, and Atsuko Watanabe (GA: Geijutsuka Art Design Class, Juden Chan, The Everyday Tales of a Cat God) designed the characters. The creator group MONACA composed the music, and DIVE II Entertainment produced the music.
More information can be found at Wikipedia, Anime News Network or Sentai Filmworks itself. Happy Viewing!!!!!
Ad blocker interference detected!
Wikia is a free-to-use site that makes money from advertising. We have a modified experience for viewers using ad blockers

Wikia is not accessible if you've made further modifications. Remove the custom ad blocker rule(s) and the page will load as expected.